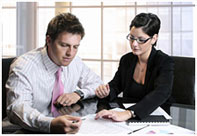 Blue Chip Stocks is an integrated financial services group, offering a wide range of services to a diverse clientele that includes corporations, high net-worth individuals, and retail investors. Be it stocks, derivatives, mutual funds, IPOs, fixed deposits, life insurance solutions, bonds, currency derivatives or inter corporate deposits, we have products for every investment need of our clients.
Incorporated in 1991, we are an AMFI registered distributor for all mutual funds in India. Today, after 25 years of existence, we have become one of the most trusted financial consultants in Kolkata, and have become synonymous with reliability and trust. For the last 15 years, we have been Platinum partners with Reliance mutual fund, and Preferred partners with HDFC, Birla, and ICICI mutual funds to name a few. Serving more than 600 investors and managing over 100 cr. of their hard earned money, safeguarding the interest of our investors is and has always been our topmost concern.
We aim to simplify the investment process by offering a holistic view on financial planning that suits your financial goals and dreams, balanced with your investment risk tolerance. Life changes, goals change, and you need to have a financial partner to help you on the journey. The motto of our organization is to provide paramount services to our valued regulars and consequently we say,
"Investing smiles...Reaping happiness"
.
We have a well-developed infrastructure in the heart of the business centre of Kolkata - Dalhousie, with modern communication equipments and latest financial software for managing the entire portfolio of an investor. Everything is taken care of by a team of experienced professionals, right from advising to submitting of the forms, and sending you the statements on a regular basis. We also have dedicated mobile executives to provide instantaneous services to our clients. The proprietor, Mr. Shrikant Jhawar, has been in the field of finance for over 25 years, and has accumulated rich experience in providing profitable savings and investment solutions.
Some of our valued clients include corporates like Paharpur Cooling Towers Ltd, Orient Beverages Ltd, Mcleod Russel, Maheshwari Datamatics, Green Estates, Srinath Agro Industries, Shreyas Overseas, Karni Udyog, Servo Packaging, Marsons Ltd, and Techno Fab Manufacturing Ltd among others.
We assure you of our excellence and prompt services at all times, and look forward to designing a financial strategy for you that will make the most of your strengths and help you achieve your financial goals. Let us help you in creating and managing a sustained wealth creation process!
SIP CALCULATOR

Plan your financial goals properly through our easy to use calculators for pension, etc.

Compare FUND

This is what a professional asset Management Company does for mutual funds.

Latest TIPS

Check our recomendation section to know about our best tips in MF & FDs.